3.1- School organisation
When applied as a school project, Talent Maker requires some logistical reorganisation. Below are the main steps to implement it before and during Covid-19, with a common outset explained hereafter.
The first stage for a school to launch the project is to identify and determine the teachers' talents that will be offered to the students. The selection process criteria should appraise if they are feasible, age-appropriate and motivating for the children. Also, if the elected ones represent the eight multiple intelligences. The second phase consists of teachers introducing their talents to pupils with a class-to-class visual support presentation.
Before Covid-19
The third step before Covid-19 involved students listing the talents in their preference order. Then, teachers would organise scholars in reduced (10-13 kids) lower-primary, middle-primary and upper-primary mixed groups ensuring they enrol, at least one term, in one of their first options. Finally, children would enjoy a talent workshop one afternoon per week during the term. By the end of the year, pupils would get to engage three talents from their list.
During Covid-19
Conversely, the third step during Covid-19 is dividing students into half groups of the same class. Next, they spend from three to four sessions on each talent, allowing them to try all the workshops during the academic year and, maybe, to discover a new passion.
After Covid-19
Subsequently to these experiences, teachers are discussing different possibilities of combining both organisations, taking advantage of the potential offered by each one. For instance, they are wondering about letting lower-primary children pass by all the talents supplied by their teachers. While middle and upper primary pupils spend three (three talents per academic year) or four months and a half (two talents per academic year) in the talent workshops of their choice.
3.2- Learning spaces
Spaces and equipment
Talent Maker is thought to be carried out in multicultural schools and in case of a lockdown at their families' homes. Thus, the Capsules included in this guide consider the possibility of incorporating or replacing materials with available ones. Likewise, they are not expected to be implemented in an ideal space. They pursue to be adapted easily to the location and equipment at disposal.
However, the schools sometimes prepare workshops or talents where they work with specific materials and equipment that children might not get the chance to work with otherwise. In this case, when home-learning, they can borrow them after signing a compromise contract or perform the part that does not require them at home and continue it at school. For this reason, you will find some capsules divided into two.
Because there can be as many talents and talents activities as teachers imagine, and the project intends to be applied in as many schools as desired, here are some space and equipment recommendations to follow the Talent Maker methodology accurately:
Equipment:
Promote the use of recycled products
Try to stick to school/household appliances
When this is not possible, suggest easy to find and affordable materials
Provide variety (different colours, shapes, textures, flavours) and a wide range of
options (alternatives)
Remember, safety first
Space:
Make the most of your space: make it pleasant, cosy and magical
Keep the working area safe and tidy
Ensure children know where to find the materials during the activity
Guarantee equipment is accessible for pupils during the workshop
Prioritise natural light rooms and outside spaces
A disposition of the space that allows children to interact with each other: help, share, play, etc.
When likely to stain or damage protect with newspaper or tablecloths the endangered surfaces
Hidden curriculum
Furthermore, a rich learning environment with the following Lifelong Kindergarten ideas as a base is essential for the adequate performance of the Talent Maker project through the workshops at school and the Digital Educative Capsules at home.
Projects, Passion, Peers and Play: the four P's spur creative learning experiences because when scholars are committed to a project based on their passions, they put all their dedication. Moreover, as creativity is considered a social process, sharing, collaborating and building on peers' work with a playful spirit allow them to experiment, take risks and improve by taking advantage of their interaction.

Learning by Doing: In order to achieve deep learning, authentic and relevant insights, students must interact with the content directly. Making things children become creators and designers of their own knowledge in a meaningful way.

High ceilings and wide walls: It is beneficial to provide pupils with a lot of opportunities. Scaffolding their beginnings but letting them space to grow and go further as they get expertise. Simultaneously, offering choices along the way that bow to their personality is expected to increase their inner motivation, engagement and responsibility.

You can't get it right without getting it wrong: It is crucial to understand mistakes as part of the learning process in creativity and innovation. Therefore, in trial-and-error methodologies providing the confidence to err to students is an empowerment.

Hard fun: An activity that requires effort can be equally amusing if motivating for the learner. Seymour Papert defined the hard-fun concept as something enjoyable precisely because challenging.
3.3- Learning objectives
Despite the wide variety of workshops that the project allows and, as a consequence, the freedom for teachers to choose on which conceptual knowledge to focus; following the Talent Maker methodology properly intends to thrive two learning goals:
Learning objective 1: Mobilise previous academic knowledge through its workshops while acquiring new ones as pupils build products/artefacts (conceptual and procedural knowledge).
Learning objective 2: Shape up these soft skills: creativity, collaboration and critical thinking; whilst improving their digital abilities and learning to express themselves using Creative Technologies (procedural and attitudinal knowledge).
Creativity: The capacity to imagine, conceive, express or make something that was not there before. (Durham Comission, 2019).
Collaboration: Collaboration builds on the skills of effective communication by placing it in an interpersonal setting. But collaboration is more than cooperation. It is about learning to plan and work together, to consider diverse perspectives, and to participate in discourses by contributing, listening, and supporting others (Laura Greenstein, 2012).
Critical thinking: Mode of thinking about any subject, content, or problem in which the thinker improves the quality of his or her thinking by skilfully taking charge of the structures inherent in thinking and imposing intellectual standards upon them (Linda Elder, 2007).
Digital competence: Digital competence involves the confident, critical and responsible use of, and engagement with, digital technologies for learning, at work, and for participation in society. It includes information and data literacy, communication and collaboration, media literacy, digital content creation (including programming), safety (including digital well-being and competences related to cybersecurity), intellectual property related questions, problem solving and critical thinking (Council Recommendation on Key Competences for Lifelong Learning, 2018).
3.4- Teacher role
The teachers have a fundamental role in Talent Maker. They are more than mirrors or inspiration. They are the bridge between children and their passions acting like carers of the time-space where kids can make the most of themselves.
Accordingly, within the project, teachers act as guides. They are responsible for planning the sessions and structuring the Capsules. That would be until the pupils are ready to design their own. Additionally, they provide a variety of materials and tools while assuring order and safety during the workshop performance.
However, the learning environment is not only about the equipment. It also has to do with the atmosphere during the activity development. Students should experience hard fun, not be afraid to make mistakes, feel actively involved in their learning, collaborate with their peers, etc. So, it is the teacher's task to build up these previously detailed underlying ideas.
Indeed, teachers need to identify the concepts and skills mobilised in the workshops. And their connections with their curriculum too. Then, set realistic goals for students. Throughout the sessions, it is relevant that teachers formulate good questions pursuing pupils' wonder, reflection and understanding. They also should give feedback when asked or needed for the objectives' achievement.
Yet it is undeniable the paper of teachers as behaviour and performance models. In the Talent Maker workshops, sometimes they awaken admiration becoming someone to look up to by children. In this role, they spark and inspire kids' imagination. Foremost, teachers gave them faith, recognizing their potential and the person that they can turn into.
3.5- Pupils role
On the other hand, pupils play the main character in the project. The blended methodology nourishes their multiple intelligences and gives them a hands-on approach in their learning while mobilising cross-curricular competencies.
Besides, in Talent maker, students imagine, hypothesise, get inspired, play, explore, share, exchange help and feedback and reflect, to start all over again imagining.
The small groups promote a closer relationship with the teacher and a tight collaboration between peers.
In their active role, they have choices and, making their own decisions, boost their inner motivation and self-discipline. Because as Howard Gardner stated,
"You learn at your best when you have something you care about and can get pleasure in being engaged in."
3.6- (Digital) Educative Capsules
Not only the Digital Educative Capsules aim to allow the transfer of the school Talent Maker workshops to home in a lockdown situation. But also, to be visual support during the school implementations. Correspondingly, they split the activities into easy step-to-step instructions, accompanied by a picture to overcome the language barrier, and require affordable and attainable materials given the needs of multicultural families. Additionally, most of the Capsules have QR codes with links to illustrative videos of the activity, related content that may be required by pupils to follow the workshop or extra information.
Furthermore, they always follow the Creative Thinking Spiral structure: Imagine, Create, Play, Share and Reflect. At the same time, promote an activity development that captures the project Methodology. Despite this stable layout, which has two purposes: boosting the scholars' confidence and teachers' fidelity to the project, the Digital Educative Capsules template licences creativity since they accept multiple answers and results.
3.7- Activity development
According to its methodology and its theoretical foundations, Talent Maker proposes the following activity development:
Imagine
1. For a start, remind children of the aspects performed and learned in the previous sessions or make them recall an event or experience linked to the content of your workshop.
2.Next, invite them to hypothesise about the project they are about to begin from the materials and the space where they find themselves.
3.Once they have shared their ideas, only if necessary, show examples of the possible activity results to spark pupils' ideas.
Create (imagine, create, play, share and reflect)
4. Then, let students commence the hands-on phase where they can count on the teacher's question-based guidance and the Educative Capsules visual support. Encourage them to play in order to experiment the Creative Thinking Spiral natural learning as well as helping each other during the making process.
5. When ready, and if considered adequate by the teacher, suggest kids record their steps (writing down, drawing, taking pictures, etc.), to elaborate their itinerary demonstrating another way to get the same, a similar or an alternative result; or both in a blank Educative Capsules worksheet.
Play and Share
6. Provide students time to enjoy their creation: taste it, wear it, perform it, play with it, etc. In addition to displaying or sharing it with others while feeling proud of their work.
Reflect
7. At last, it is vital to finish the activity with a reflection of the process: identifying and putting a name to their difficulties, the parts they liked, learned, surprised them or developing further the experienced concepts or ideas, among others.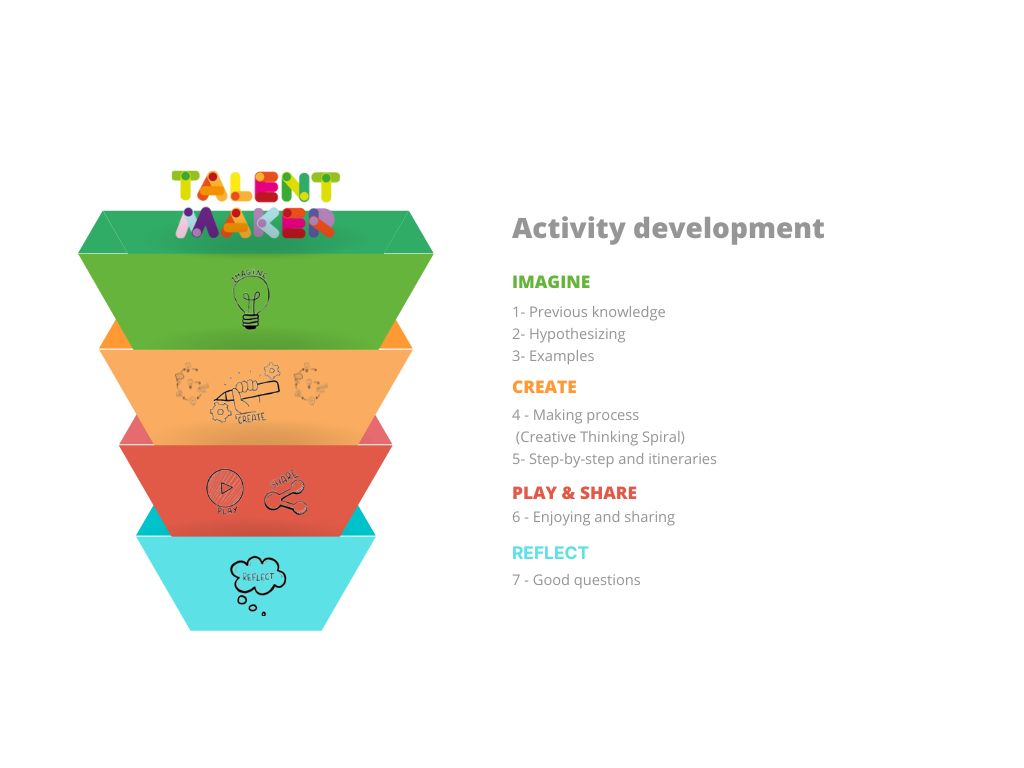 3.8- Evaluation
When starting and during the Talent Maker workshops, teachers explore the previous knowledge of pupils and, sometimes, evidence them in a harvest of knowledge. This helps to create connections with concepts or models that children are already familiar with and to reveal things that they might still not know and may need to create their products. Moreover, teachers and fellow students provide real-time feedback.
By the end of the session, pupils' attitudes related to the Learning objective 2 (creativity, collaboration, critical thinking and digital skills) are recorded on a self-assessment star rating and at the end of each term on co-evaluation grids.
Besides, teachers obtain information linked with other school subjects (Learning objective 1) from their observations written in a journal. Ergo, the evaluation of academic knowledge and abilities acquired is flexible to the teacher's activity focus and assessed according to each country's curriculum and school programme.
Furthermore, the compilation of the completed Educative Digital Capsules by children on individual Student's Portfolios serves as evidence of their progress (assessment of learning) and supports the co-evaluation of the soft skills and as guidance for the end-of-term progress interview and work contract (assessment for learning).
On the other hand, at the end of the project implementation, teachers reflect on their talent workshops and Educative Digital Capsules experiences using a success plan checklist. Then, discuss with colleagues of the same cycle (lower, middle or upper-primary) the way to perform better: update, improve, overcome difficulties, adapt to children's needs, etc.
To find out more about these evaluation resources download our Talent Maker Teacher's Guide and go to chapter 7-Assessment and Feedback.