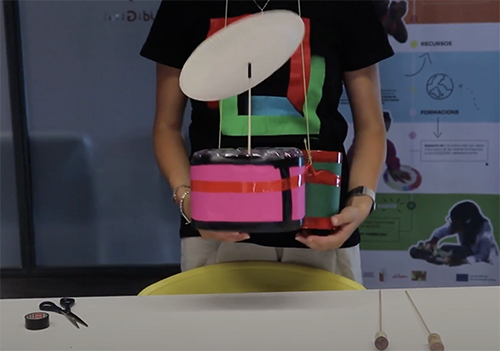 Did you know? Luthiers are crafters that make and repair string musical instruments. Do you know the name of percussion musical instrument makers?
This music workshop is about turning daily life materials into percussion musical instruments. Next, form a band and put students' musical skills into practice. The recommended age for this Educative Capsule is 8 to 12 years old. 
Language: English
Age-group: 8-12 years old
IM focus: Musical
Recommended space: Indoors
Video: Yes
Unplugged
Did you know? Conductivity is the property of allowing heat or electricity to go through something. Electronic instruments produce or change sounds using electricity.
This Capsule follows the Drums Kit I. It is addressed to the same age group and pursues a similar goal: form an electric by giving different timbers and pitches to your DIY percussion instruments as a result of altering them using Scratch and Makey Makey.
Language: English
Age-group: 8-12 years old
IM focus: Musical
Recommended space: Indoors
Video: Yes
Plugged